Friday, 20 September 2019 15:19
Written by Webmaster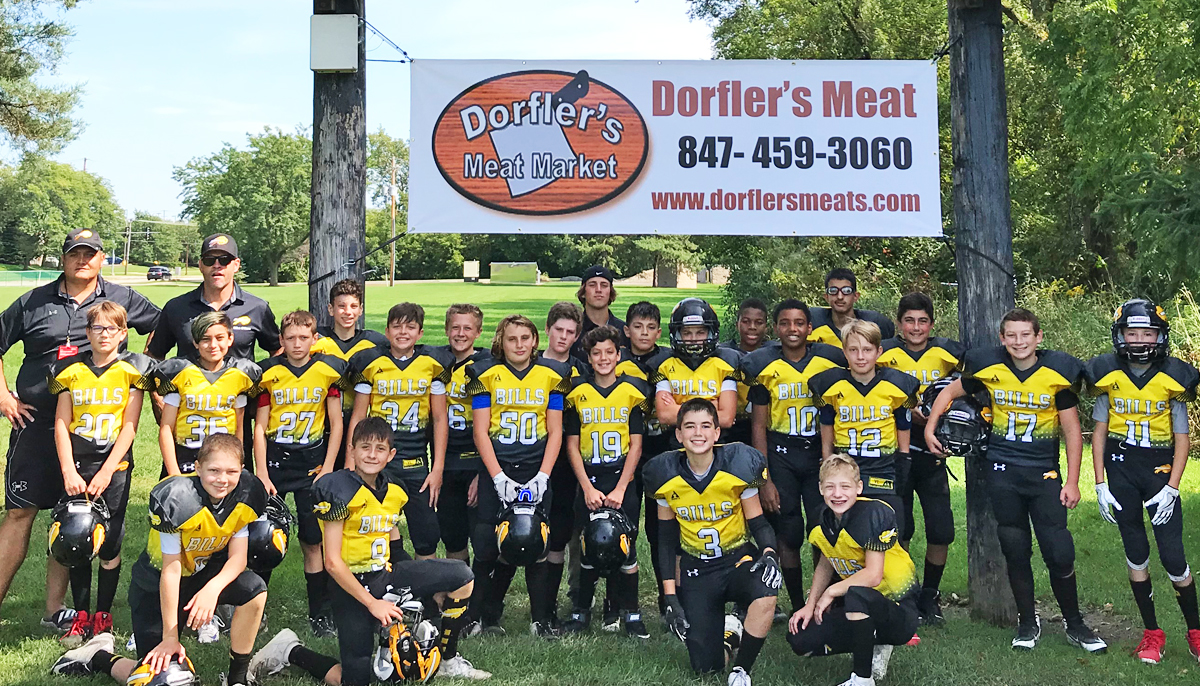 The Bills program reports 4 victories and 1 loss for week#3. This gives our program 9 wins and 6 loses so far for the 2019 season.

THE 2019 WEEK 3 BLOG WAS BROUGHT TO YOU BY:


Dorfler's is one of the oldest businesses in Buffalo Grove, proudly serving the community the highest quality meat and seafood since 1978.
CHEER NEWS
A huge SHOUT out to our cheerleaders! 2019 has proven to be a colorful season, we've more than doubled our squad from 2018!!!! We want to thank the Buffalo Grove High School Head Cheer Varsity Coach Jeff Siegal, for inviting our girls to participate in their annual kids clinic where we got to spend time learning the Bison cheers and then performed during the first quarter at the varsity game last weekend! The girls had a blast and we can't wait to partner more!
Another monster shout out to our Stevenson High-school coaches who teach, guide and cheer on our young girls. We couldn't make this year possible without them!!!
Keep an eye and an ear out for our squad this year - we will see you on the field!! Go Bills!
BILLS STORE
Bills fans be advised that the Spirit Store closes this weekend! Be sure to click on the banner below to view the many cool apparel items that you can customize with a variety of Bills Football Designs.
WEEK #3 GAME REPORTS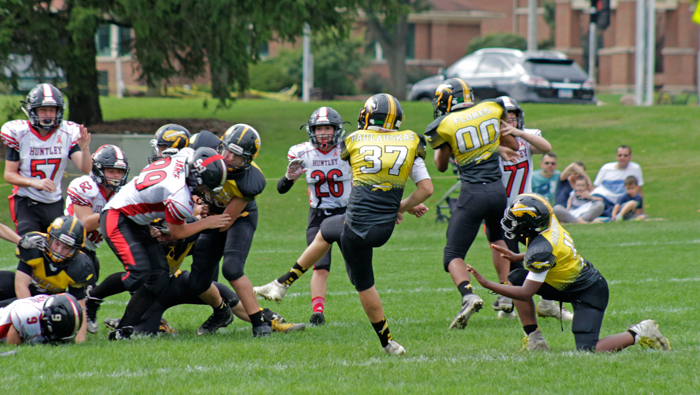 Junior Varsity | Coach McGrath
JV wins at home!
Junior Varsity= 33 vs Huntley= 14
BG Bills JV got another W this week with a 33-14 win over Huntley. The O/D line continued their steady play, tcob up front, paving the way for the RB's. Isiah Flores with another 3 td's, running hard, making people miss, and running wild all day. McGrath with 2 long receptions, one for a TD. Fawcett directing the O like a coach on the field, and another long TD toss to McGrath. Vandyke, way to play through not feeling well, we appreciated your effort! Oloman and Paulauskas with some steady play at DE's. Sofiyev and Gueorguiev in the back field all day. Gueorguiev with a forced fumble and Aghakhan with the recovery. Ethan Aghakhan, good thing there is a fence along lake cook road. Ethan, amazing job, you are relentless, with a great motor! Gleyzer with some stellar play at LB and TE, adding a highlight reel tackle. Themba Sitshela with a crucial INT. Rios with a nice carry up the middle. Robinson lock down corner all day and some big runs on O, slicing and dicing through the D. Barker, Patel, and Weil Richmond, steady play all day against an air raid O. And, the Chicago Bears have Eddy Pineiro, and we have David Paulauskas. David smashed a 44 yard field goal into the wind, center cut! Amazing! MVP to David this week!
Middleweight | Coach Sibo
Bills win at home!
Middleweight Big10= 22 vs Libertyville = 0
Week 3 and the Big Ten Middle team had a grind it out win over Libertyville 22-0. Defense pitched another shut out limiting the Wildcats to 1 1st down. The Bills started the game with a 65-yard scoring drive that used up the 1st Qtr. Again the boys up front dominated the offensive and defensive lines of scrimmage. Next up is Grant on Sunday at home. Game highlights are:
• Staub running between the tackles like a bulldozer.
• Finn Kenny with the big 30-yard Punt Return to setup the second TD
• Staub with the rushing TD
• Crawley to Baker for the score. Got to like this combo.
• Griff Suren with a Sports Center highlight diving catch
• Crawley with the QB keeper for the score
• Luke Nelson with the big sack. He almost took the handoff!
• Crawley 4 for 5 for 70 yards and a TD. Is it Air Sibo?
• Branas 2 for 3 on extra points. These kicks are huge.
Middleweight | Coach Guccione
Bills win at home!
Middleweight Pac10= 6 vs Libertyville=0

Middleweight Pac10 certainly had a defensive victory, by keeping Libertyville scoreless, to win this close game on our home field!
Offense started with the ball and had trouble advancing forward until a QB sneak resulted in a 30 yard gain. After a few miss queues Defense took the field and held strong by constantly pressuring the QB of Libertyville. With an interception shortly after by Hami Mikaere (his second of the season), the defense gave the offense something to work with. Offense took over and had trouble converting positive yardage as Libertyvilles defense pushed into the backfield.
The defensive line turned into the Pac Attack Crew hungry for a sack. The pressure caused the Libertyville center to constantly overshoot the shotgun snap. This constant negative yardage for Libertyville added up to good field position for our offense. Libertyville's QB began getting rid of the ball quicker as a result of being under pressure, leading to the defense focusing in on the ball carrier quickly and taking him out for multiple losses. After a blocked punt by Elliott Dumiak, the offense started with fantastic field position inside the 10. Unfortunately, an interception stopped the Bills in their tracks once again.
Defense came through with pressure topped off by a great open field tackle of the scrambling QB by Washington! The next play led to a pinball style tackle of the QB due to a bad snap that pushed Libertyville back to their 7 yard line. Taking over on downs, the offensive line put in a few good pushes to seal a touchdown with a QB sneak for the Bills!
Through the game a few sacks were achieved with Dumiak leading the charge through Libertyville's offense line. Becker and O'Hara played well at Defensive ends, with a near INT by Becker nearly thwarting a flat pass done the line of scrimmage.

The Pac Attack Crew may have ended up with more yardage than positive yardage from Libertyville's offense. This defense is only at the beginning of what they can accomplish, so stay tuned to future attacks of the Buffalo Grove Bills!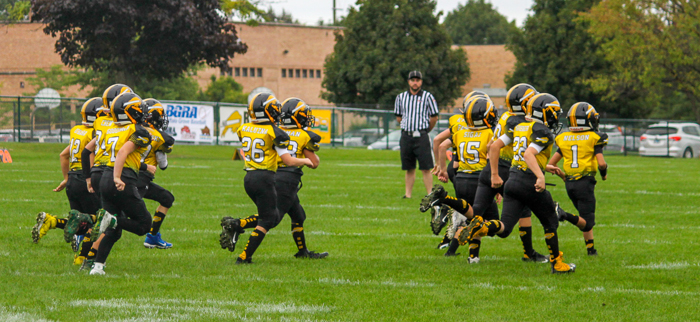 Featherweight | Coach Hooge
Bills lose at home.

Featherweight= 0 vs Libertyville= 21
Another tough Sunday for the Feather boys. The boys were out match but kept the fight coming all game. Working hard to make tackles and blocks. Roth worked rally hard to get is first start of the year and getting in early to make a tackle. Charlie Hansen blitzed on DF play to attempt to break up the play in the back field early. We did sputter on O but everyone kept working to gain yards and get first downs. Dylan Nelson took some really big hits all game but got up time and time again to run the offense. It was a tough week but we are back to the practice to get back to work. We have a hungry Grant team coming in to Emmerich this week for a piece the this team and they are ready to defeat the challengers.
Bantam | Coach Duff
Bills win at home.
Bantam= 20 vs Waukegan=0
Another stellar defensive effort by the Bills giving up minimal yards the entire game. The strong play was anchored by a near impenetrable defensive line – rarely giving an inch on the line of scrimage. From there, the linebackers and corners attacked ferociously for numerous tackles for loss.. Each play there were droves of black and yellow jerseys around the ball. To close it out, there was solid tackling from all players. A couple highlight one-one-one tackles by Jax Baker and Artur Cara. On the other side of the ball the offense finally got on track; scoring on the first three possessions. Jackson Boundy led the offense down the field and all three running backs (Jax Baker, Jake Blair and Bowie Richmond) were able to punch it in. The offensive line had a great week of practice and it really showed as they paved the way all game.
WEEK 3 BLOG BROUGHT TO YOU BY:

Dorfler's is one of the oldest businesses in Buffalo Grove, proudly serving the community the highest quality meat and seafood since 1978.
Last modified on Friday, 20 September 2019 20:17
Friday, 13 September 2019 23:27
Written by Webmaster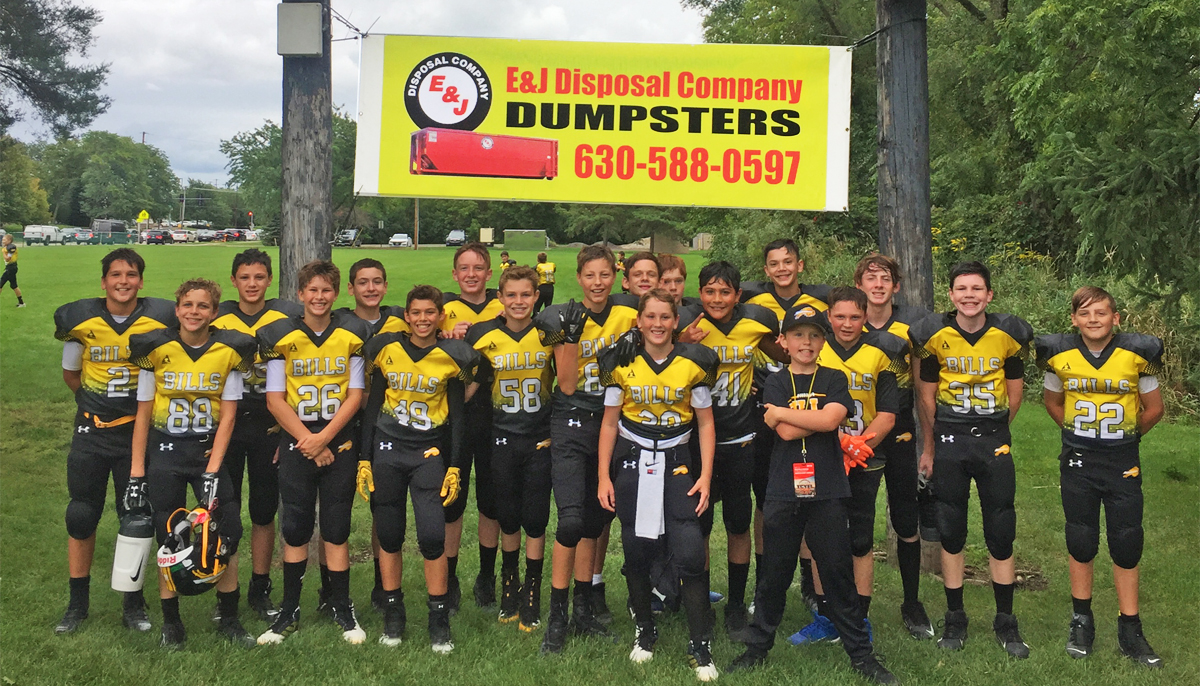 The Bills program reports 2 victories and 3 losses for week#2. This makes our program 5 and 5 for the 2019 season. Last week was week 2 and our program was thrilled to see all of our fans out for our home opener.
THE 2019 WEEK 2 BLOG AND SEASON HOME OPENER WAS BROUGHT TO YOU BY: E&J Dumpsters & Disposal.
E & J Disposal Company specializes in contractor, homeowner and business dumpster rentals. From small home remodeling projects to large-scale construction projects, we provide dumpster rental services for commercial and residential properties from start to finish.

OTHER NEWS
Bills fans be advised that the Spirit Store is now open again! Be sure to click on the banner below to view the many cool apparel items that you can customize with a variety of Bills Football Designs.
WEEK #2 GAME REPORTS
Junior Varsity | Coach McGrath
JV wins at home!
Junior Varsity= 22 vs Antioch= 14
The BG Bills JV squad got back on track and in the W column, beating Antioch 22-14. The o-line played their best game, dominating the line of scrimmage and opening holes all day long. Ethan Aghakhan was a beast on both sides of the line all day long with pancake blocks and multiple TFL's. Carson Oloman with a crucial game ending QB sack. Isiah Flores with 2 td's and some strong running all day, breaking multiple tackles for long gains. Fawcett great ball to McGrath for 65 yards on a 4th and forever. #25 turned on the jets for the score. Farid Sofiyev and and Richie Gueorguiv with some stellar play on the d line with multiple big tackles. Deividas Paulauskas was 2-3 on extra points and played great on both sides of the line. Donovan Robinson shaking and baking again. Hey #11, don't jump! Contributions from the entire team, but the MVP goes to the o-line, Jones, Paulauskas, Oloman, Martin, Aghakhan, along with our 2 TE's Gleyzer and McGrath. Great team win!
Middleweight | Coach Sibo
Bills win at home!
Middleweight Big10= 36 vs Barrington = 0
Week 2 and the Big Ten Middle team didn't let up with an impressive 36-0 win over Barrington. Offense scored the first 2 times they touched the ball and the defense had another shutout without allowing a 1st down. Next up is Libertyville. Game highlights are:
• Staub on the 1st offensive play of the game goes 62 yards for the TD
• Strauss with the fumble recovery
• Crawley to Baker for the 32-yard TD pass
• Finn with the big pick 6 for the TD
• Crawley to Crew for 20 yards
• LB punches it in for the TD from 9 yards out
• Guzman gets the interception then on the next play, behind a crushing block from
Palzet, goes 42 yards for the score.
• O Line and D Line controlled the line of scrimmage all game. Boys up front win games.
• Branis 3 for 5 on extra points. Maybe we got this one figured out.
Middleweight | Coach Guccione
Bills lose at home!
Middleweight Pac10= 12 vs Barrington=13
Our middle weight Pac10 squad played hard in another close game, this time versus the Barrington Broncos on our home field.
The crew started off great with a 65 yard touch down run by Cameron McCasey, who found the hole and was off to the races. The Broncos were able to block the extra point attempt making the score 6-0 Bills.
The Broncos took possession and met our defense, which played strong all day. The initial Barrington drive was thwarted and ended with an interception which was reeled in Mr. Reptak.
This gave the offense the ball back which had a hard time handling the ball on this moist Sunday. After a short drive, the Bills gave the ball back to the Broncos resulting from a fumble in the backfield during a quarterback to running back transaction. The game shifted slightly back and forth as the 2 defenses battled to keep their opponents from scoring. The Bronco scored again on a pass and followed up with a successful extra point attempt. Our Offense worked it's way back and put another 6 on the board with a 26 yard run from Drew Langerman. Unfortunately, due to a moist ball and another failed transaction from center to quarterback stymied our chance for the extra point without having a chance to execute the play.
Again our defense took the field, but there was just not enough time left. Barrington successfully juiced the clock and snuck away with a victory.
Our offense had issues holding on to the ball and was only able gain a total of 148 yards. Despite the loss, our defense really shined holding Barrington's high-powered offense to only 2 scores (13 points). Dumiak and Peszek were beasts on the D-Line, while Becker and O'Hara settled in at defensive ends and pushed the action inside to our hungry linebackers: Leven, Washington, Reptak and Schultz (made tackles all day). Our secondary: Mikaere and Mendoza did a good job attacking the run and shutting down the sweeps. Aside from a couple passes that snuck through, the defense was solid!
Our team looks forward to another challenge this week as we face Libertyville's passing game at home. We have prepared well and are ready for the challenge.
Featherweight | Coach Hooge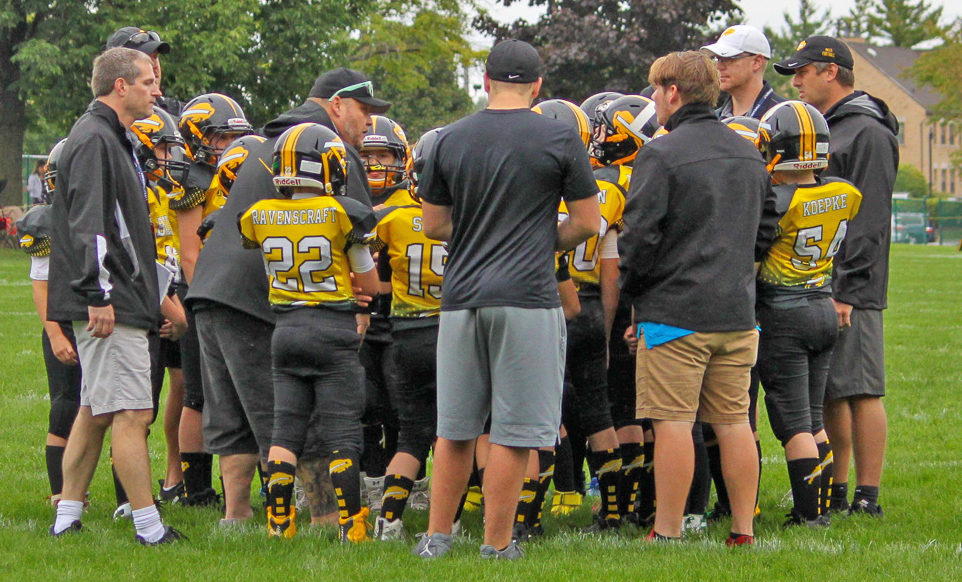 Bills lose at home.

Featherweight= 8 vs Barrington= 33
It was a tough weekend for the boys. We welcomed a very good Barrington team to Emmerich park The boys got on the board early with a long run to take a 8-0. It was a great showing by the visiting team but the boys kept working hard and never gave up. It was a tough day but the team learned from this game and are ready to take on the Libertyville Cats at home to get the our first win of the season. A week of hard work ahead that will be followed with getting their payday.
Bantam | Coach Duff
Bills win on the road.
Bantam= 6 vs Barrington=7
The Bantam Bills lost a hard fought battle 7-6 in 3 OT's. The defense was stellar again this week allowing only a handful of first downs. This was the only touchdown given up this year so far and it was only after a turnover on downs deep in Bills territory. On offense the team got off to a hot start, with Bowie Richardson scoring on the first drive. Bowie stiff armed two opponents on his 20 yard run to the end zone. The game was a stalemate in the second half send the game into OT. Unfortunately 2 TD's were called back in overtime due to penalties and Barrington needed only to take a knee in their final possession to seal the victory.
THE 2019 WEEK 2 BLOG AND SEASON HOME OPENER WAS BROUGHT TO YOU BY:

E & J Disposal Company specializes in contractor, homeowner and business dumpster rentals. From small home remodeling projects to large-scale construction projects, we provide dumpster rental services for commercial and residential properties from start to finish.
Last modified on Saturday, 14 September 2019 00:58
Thursday, 05 September 2019 01:18
Written by Webmaster
The Bills program was pleased to kick-off the 2019 season with 3 victories and 2 losses. We were also very proud to see our program well represented in the 2019 Buffalo Grove Days Parade. Thank you to the many players, cheerleaders, Coaches and Parents for coming out to march with the program.

We wish to welcome and thank all of our volunteers and sponsors for the 2019 Season!
This week's blog is sponsored by: Sam L. Amirante & Associates Law Firm.

Bills Football & Cheer would also like to take this opportunity to announce that Sam L. Amirante & Associates Law Firm is not only a sponsor of the 2019 season, they will also be acting as the new legal counsel for the Bills Football Program. We welcome you aboard to the Bills family!
WEEK #1 GAME REPORTS
Junior Varsity | Coach McGrath
Bills lose on the road.
Junior Varsity= 12 vs Wauconda= 22
The Bills JV team lost a tough one 22-12 to Wauconda. Some injuries and turnovers made for a long day. Donovan Robinson and Jack McGrath each scored a TD. Donovan was a beast all day on both sides of the ball. Brady Martin with some nice pancake blocks on the O-line.
Ethan Aghakhan with some stellar play in the trenches on both sides of the line. Jack McGrath with a blocked PAT. Ben Fawcett with the long ball to Veer Patel. Tyler Gleyzer and Carson Oloman running sideline to sideline all game, tracking ball carriers. Mac Jones steady play up front and filled in on D. Need to get back on track in week two, get healthy, and back into the W column.
Middleweight | Coach Sibo
Bills win on the road!
Middleweight Big10= 25 vs Wauconda = 0
The Big Ten Middle team started off the season rolling with a 25-0 win over the Wauconda Bulldogs. In a balanced attack the defense scored as many times as the offense. The boys went full out from the opening whistle, never letting Wauconda into the game. The Middles look to keep it going this week against Barrington.
Game highlights are:
Crawley opens the scoring with the QB sneak. Those Crawley's have QB in their blood

Guzman gets the defense on the board with a pick 6 in the 2nd quarter

Not to be outdone Staub gets a pick 6 of his own

Finn goes through the 5 hole for 78 yards and the touch down. He also had over 100 yards rushing. Are we sure that this is his first year of tackle football?

Crawley to Baker for the completion. I think we may see a lot of this combo this year.

O Line controlled the line of scrimmage all game. Can't do it with you guys.

Defense with its first shutout of year and dominated all game
Middleweight | Coach Guccione
Bills win on the road!
Middleweight Pac10= 24 vs Cary=19
The 2019 season kicked off in Cary with a nail bitter. Our boys started off on offense and looked strong as they marched the ball down field. After an unfortunate turnover, we continued to trade blows with Cary. They got on the board first with a slow but solid drive. The Bills answered back with a 25 yard touch down run, sprung by Drew Langerman. However, the play was called back due to a hold. The Bills did not delay and scored again on the next play with a 30 yard reverse by Sohi. Beckstrom followed up with the boot to put the Bills up on the score. Bills went to the half leading 8 to 7.
The second half offered some challenges as Cary was able to score twice more, putting them up 19-8. It was the 4th quarter when the offense moved the ball down field once more. Belden connected with Sohi on a short pop pass which Sohi broke loose on for a 53 yard TD. Trusty Beckstrom added another 2 points with another successful extra point. Now it was do or die. With Cary leading 16-19 and only about 5 minutes remaining in the game, Coach Guccione rolled the dice by opting for the onside play. He asked Offensive Coordinator, Matt Larsen to select a play that could earn 10 yards so we could maintain possession. The offense did just that! Larsen ordered up a half back screen pass, and Belden and Langerman delivered, earning 13 yards for the first down. The Bills were able to maintain possession and continued to grind the ball down field with carries by McCasey, Belden, Sohi, Langerman and Jaden Palzet. The Bills put the cherry on top with a 20 yard TD scamper by Langerman and another 2 point kick by Beckstrom. Beckstrom's foot was good for 6 on the day.
The game was not over, Cary still had almost 3 minutes to respond. Now it was up to the defense to win the game. O'Hara and Becker moved to play defensive ends. We saw pivotal tackles by O'Hara, Becker, Alexis, Dumaik and the rest of the crew. This halted Cary's ground game. With time running out, Cary had no choice but to pass the ball and would regret it dearly, as Mikaere pulled down a 4th quarter interception to seal the victory for our Bills.
Offense totaled 200 yards on the ground and 85 through the air. Defense gave up a bit more than we would like against the Cary offense, but after making some adjustments they stood their ground and came through in the end. Silent hero's were, the offensive line: doing their jobs and hanging tuff! Great win for the team, savor it briefly. Now it is time to focus on Barrington and look forward to a new opponent and a new set of challenges.
Featherweight | Coach Hooge
Bills lose on the road.

Featherweight= 19 vs Wauconda= 20
Week one was absolutely incredible the Feather team came out of the gate with a score in the first quarter against a very good Bulldog team. It was a tough run by Vogler that got the scoring started. He would continue his hard running throughout the game getting big first downs as the game went on. The DF was not to be outdone in the first half only letting up 6 points to a very good offense. Kaput did what he was told to shut the door at end this week. He even took on the pulling guard, shedding him to make a big third down stop. The second half was much of the same ground an pound of the first half that lead to a 38 toss and and a Fawcett touchdown. Our stingy DF kept working hard but we found ourselves needing a touchdown with 1:40 left in the game. Nelson ran the offense to a perfect 2 minutes offense like clock work as another Fawcett touchdown with just 15 ticks left on the clock. As we lined up for the 2 point kick we could hear the fans cheering this team to victory and it was awesome to hear the excitement. Unfortunately we came up just a little short.
We could not be more proud of this week one performance. The offense looked great with our line getting a great push. Our DF kept a great offense in check most of the game other than a couple big plays they played awesome.
We not have to put the work in this week for a very good Barrington team. We need to WIN THIS PLAY all game long. We in more plays we win the game. Time to look to defend our house and beat the Broncos.
Bantam | Coach Duff
Bills win on the road.
Bantam= 7 vs Wauconda=0
The Bantam Bills took the field with purpose last weekend. The defense was unstoppable, and the offense could only be defeated by themselves.
After a mistake-laden first half, with 3 touchdowns called back, and fumbles behind the line, which could have been MUCH worse, if it weren't for the incredibly stingy defense, the offense finally got it together.
Jax Baker and Jake Blair terrorized the Wauconda backfield, while Bowie Richmond cleaned up the few plays that made it through the brick wall of Jackson Boundy, Caden Albrecht, Phil Pelts, and Declan Haack. Esteban Plata and Billy Hicks made sure the sweeps were contained.
Jake Blair, Bowie Richmond, and Jax Baker each made it to the endzone, but only Jake, who made it twice, had it stick. The o-line of Raizo Ruiz, Caden Albrecht, Jonah Duff, Phil Pelts, and Aiden Noe, made huge holes, all game long. Great blocking by tight ends Matthew Owens, and Duncan Suren made sure sweeps worked, and the offense had their way with the unprepared, and undersized Wauconda defense.
A win is a win, but Bantam will need to work on focus and discipline, if they want to beat last year's 4A Super Bowl champion Barrington. The coaches believe only this team can beat THIS team.
THIS WEEKS BLOG WAS BROUGHT TO YOU BY: Sam L. Amirante Law Group.
Last modified on Thursday, 05 September 2019 21:56