Saturday, 08 June 2019 23:27
Written by Webmaster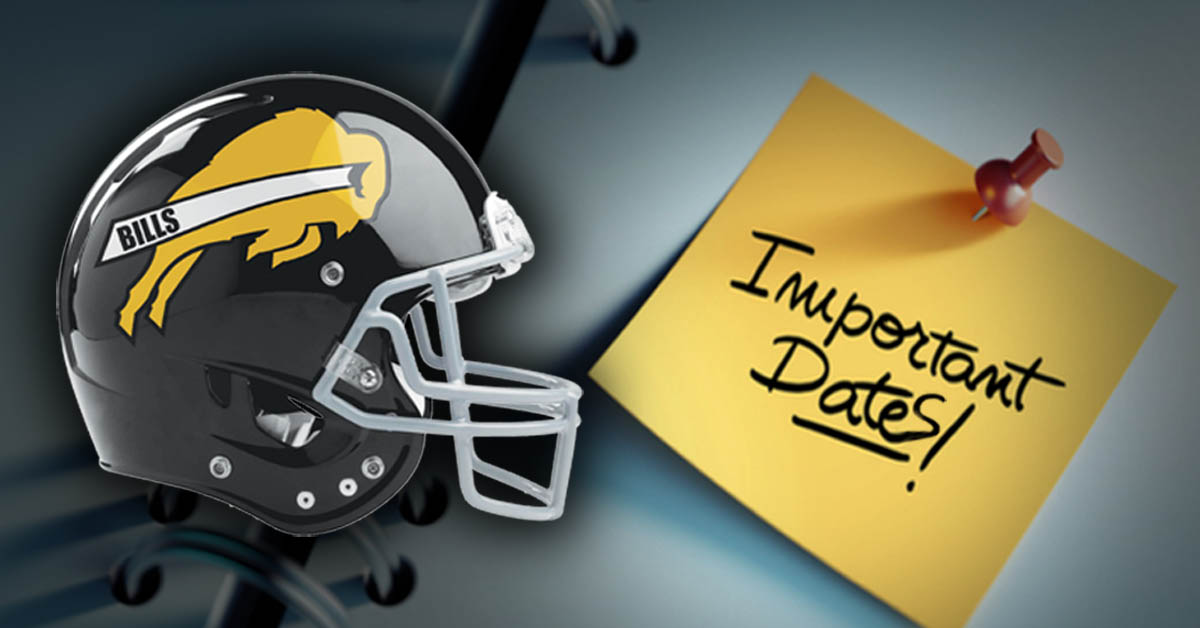 JULY 13TH & 14TH DICKS SPORTING GOODS, TCYFL FOOTBALL DAY- Dicks Sporting Goods will open for Bills families ONLY! 21830 W. Long Grove Rd., Deer Park, IL. Save UP TO 25 % on cleats and more.
JULY 17TH 18TH 19TH SPEED AND AGILITY CAMP: At Emmerich East, 5:30 PM, to 7:00 PM. There is a cost of $20.00/day (or $50.00 for all three days) to participate in this 3-day camp, payable when you report that day!
JULY 22nd FOOTBALL PRACTICE BEGINS –MONDAY THRU FRIDAY, 5:30 PM – 7:30 PM AT EMMERICH EAST FIELD, UNTIL THE WEEK SCHOOL BEGINS, ALTERNATE LOCATION TBD. Players should show up promptly at 5:30 PM in t-shirts, shorts, cleats & helmets only on Monday July 24TH. BRING PLENTY OF WATER OR GATORADE. Teams may change practice fields during the week.
JULY 22nd NEW FOOTBALL PLAYER'S PARENT MEETING– 7:45 PM AT EMMERICH EAST– ATTENDANCE IS MANDATORY IF YOU ARE NEW TO THE PROGRAM. (IMMEDIATELY AFTER PRACTICE). Attendance is highly recommended for returning parents.
WEEKENDS OF AUG 11TH & 18TH PRESEASON GAMES – For all of the Bills Football teams. All teams have preseason games – exact dates/times will be coming
AUG 20TH PICTURE DAY -AT EMMERICH EAST FIELD (FULL GAME UNIFORMS REQUIRED!!)
AUG 24th Powder-Puff Game @ EMMERICH EAST FIELD, 1p
AUG 31st & Sept 1st OPENING DAY– League games begin
**** Visit our Bills website and order your own matching jersey & Bills equipment bag We are extending the jersey deadline until June 14th, don't miss out! **** https://www.bgbills.org/
Tuesday, 18 September 2018 14:08
Written by Webmaster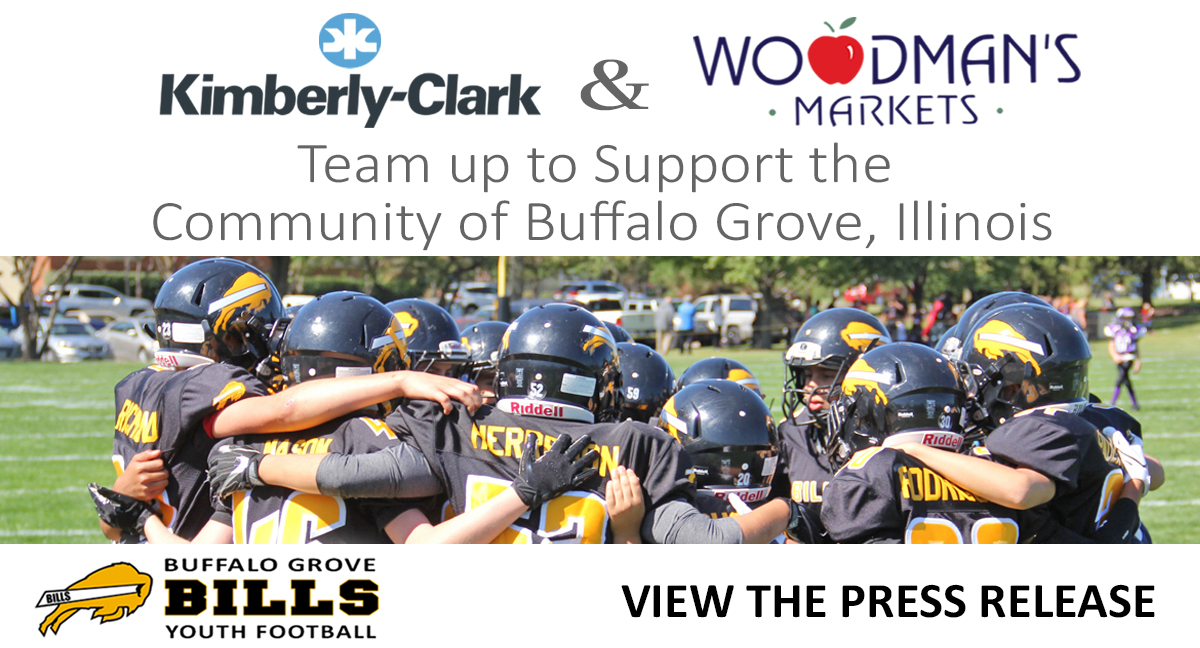 The Bills Football Family is proud to announce the sponsorship of our program by the Kimberly-Clark Corporation and Woodman's Markets!
Woodman's & Kimberly-Clark are presenting a check to the Buffalo Grove Bills Youth Football team and bringing in former NFL Buffalo Bills Safety Mark Kelso, who appeared in four Super Bowls. Kelso will be involved in the team's clinic on September 25th and be on hand at the store for the check presentation on September 26th.
Read the entire press release by clicking here