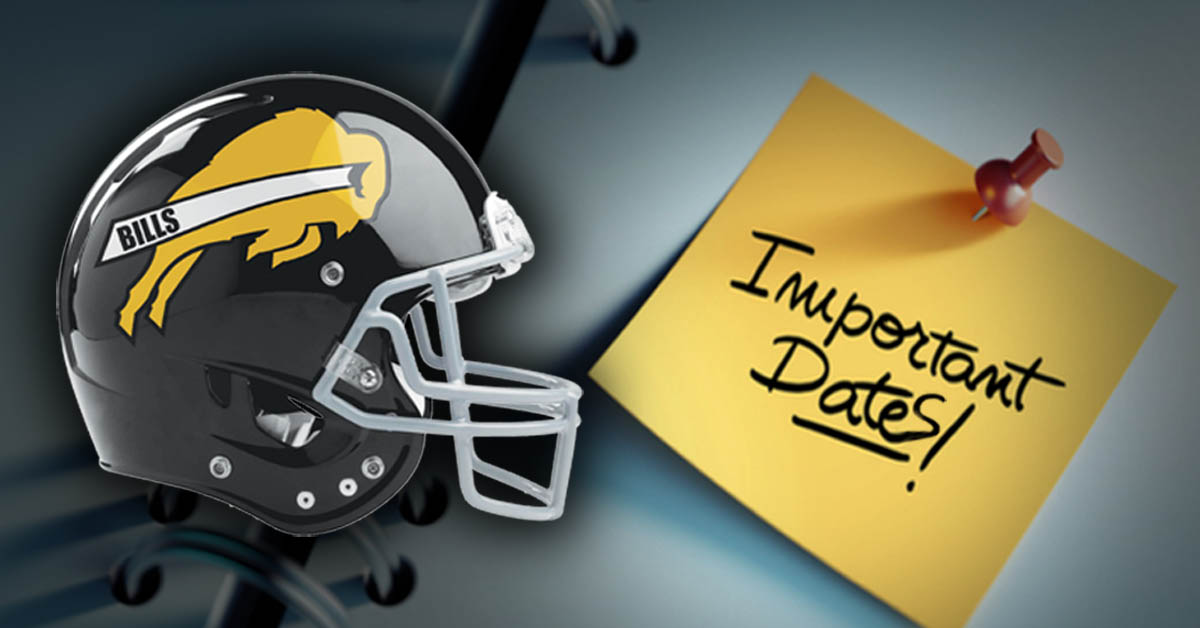 JULY 13TH & 14TH DICKS SPORTING GOODS, TCYFL FOOTBALL DAY- Dicks Sporting Goods will open for Bills families ONLY! 21830 W. Long Grove Rd., Deer Park, IL. Save UP TO 25 % on cleats and more.
JULY 17TH 18TH 19TH SPEED AND AGILITY CAMP: At Emmerich East, 5:30 PM, to 7:00 PM. There is a cost of $20.00/day (or $50.00 for all three days) to participate in this 3-day camp, payable when you report that day!
JULY 22nd FOOTBALL PRACTICE BEGINS –MONDAY THRU FRIDAY, 5:30 PM – 7:30 PM AT EMMERICH EAST FIELD, UNTIL THE WEEK SCHOOL BEGINS, ALTERNATE LOCATION TBD. Players should show up promptly at 5:30 PM in t-shirts, shorts, cleats & helmets only on Monday July 24TH. BRING PLENTY OF WATER OR GATORADE. Teams may change practice fields during the week.
JULY 22nd NEW FOOTBALL PLAYER'S PARENT MEETING– 7:45 PM AT EMMERICH EAST– ATTENDANCE IS MANDATORY IF YOU ARE NEW TO THE PROGRAM. (IMMEDIATELY AFTER PRACTICE). Attendance is highly recommended for returning parents.
WEEKENDS OF AUG 11TH & 18TH PRESEASON GAMES – For all of the Bills Football teams. All teams have preseason games – exact dates/times will be coming
AUG 20TH PICTURE DAY -AT EMMERICH EAST FIELD (FULL GAME UNIFORMS REQUIRED!!)
AUG 24th Powder-Puff Game @ EMMERICH EAST FIELD, 1p
AUG 31st & Sept 1st OPENING DAY– League games begin
**** Visit our Bills website and order your own matching jersey & Bills equipment bag We are extending the jersey deadline until June 14th, don't miss out! **** https://www.bgbills.org/